Last week the Gloucester Clam brought you our two-part gift guide. Today, however, we wanted to change it up and focus on the more upscale gifts, so we can appeal to a wider audience, like Manchester, Rockport, or Eastern Point. Since I'm not a certified Rich Person (TM), I had to make an educated guess at what the 1% wants for Christmas. Here we go.
Kalamazoo Artisan Fire Outdoor Pizza Oven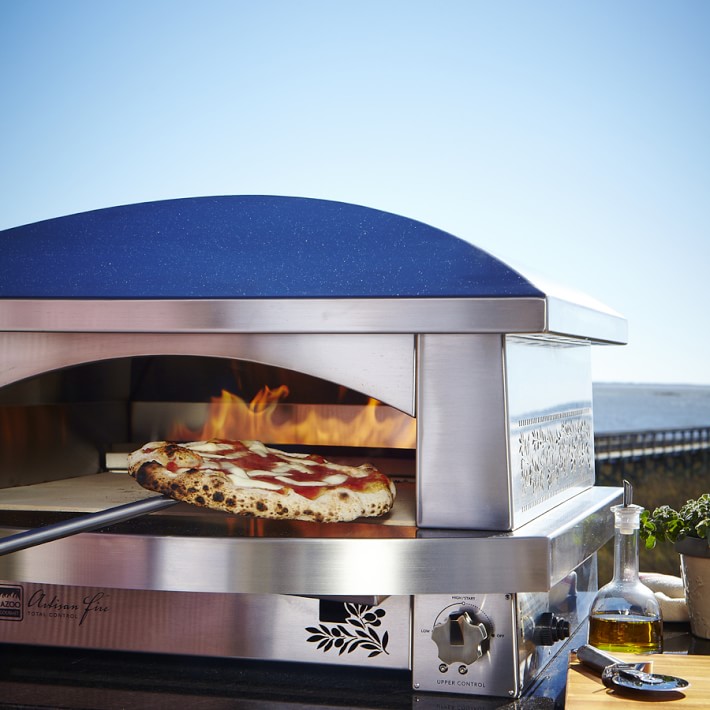 Look, when you live on the ocean by some kind of boardwalk thing and there's no houses in between, you probably live a pretty sweet life. Make it sweeter by giving that special someone (who you made sure to sign a bulletproof prenup with) the Kalamazoo Artisan Fire Outdoor Pizza Oven available at Williams-Sonoma. This indoor/outdoor oven needs no winterizing and can be used year-round, which is perfect for that ski lodge your gift recipient probably already owns. This brushed-stainless oven is available in propane (like awful middle class people use) or natural gas, and is built, welded and assembled in Kalamazoo, Michigan. $6795.
Luxe Fur Tree Skirt
You want style? This tree skirt from Anthropologie has got style, and then some! It does not appear to be a large enough tree skirt to bone your (second, much younger) wife under, but what do you want for a mere $698? This item is actually in their "gifts" section. It's made of Mongolian Sheepskin and is Dry Clean Only, so make sure your wife's creepy lap dog stays the hell away from it.
Black Steel & Wood Ping Pong Table
Buying a gift for that fraternity brother who never quite matured past his Alpha Sigma Phi days? Why not give the gift of the world's finest beer pong surface? Look no further than Restoration Hardware's Black Steel & Wood Tennis Table. This European-made table is hand-honed to resist scuffing, like when your inebriated frat brothers raced across it for a slice of lukewarm pizza and nobody won. And if your boy ever gets his shit together, this beauty easily transforms into a conference or dining table. $3995 plus shipping. Includes 2 paddles and 6 balls.
Jo Malone Pomegranate Noir Luxury Candle
Nothing says "I really don't know what the hell I could buy for you, so here you go, boring person" like a scented candle. But the gift of an ordinary candle totally makes you look like a cheapskate, especially after your startup held its IPO last month. The Jo Malone 'Pomegranate Noir' Luxury candle from Nordstrom is the answer to this conundrum. This 4-wick, 7 inch high candle "combines the sweet fruity notes of raspberry, plum, pink pepper and pomegranate with patchouli, frankincense and spicy woods to create a scent that's sensual, totally sophisticated and utterly compelling." Sounds gross. Bonus:  "In celebration of Jo Malone's passion for the elegant art of gift giving, the scented home candle comes presented in a signature box tied with a ribbon." Yeah, buying a candle that smells like patchouli is an elegant art. $455 (shipping included).
 Waterford Crystal London Desktop Bar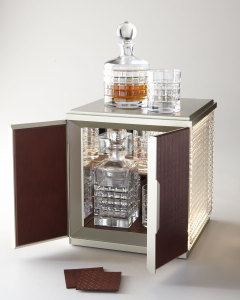 Now that you've made partner at the law firm, it's time to properly thank your dad for getting the D.A. to drop that unfortunate vehicular manslaughter charge you got in high school. And what better way to thank the old man who gave you everything he could (from his stock options to that poor girl's family) than Neiman Marcus' Waterford Crystal London Desktop Bar. This crystal and leather portable bar illuminates automatically when opened, and contains crystal decanters, highball glasses, and old-fashioned glasses, as well as a leather tray and coasters. Live it up, Mad Men style. $17,500 (free shipping, free returns).