WASHINGTON, DC—On Sunday President Donald Trump signaled his desire to continue flouting the world's lists, whether they be secular or sacred, hallowed or utterly trivial.
Installed in the White House for just over a week, the Trump administration has already managed to breach most of the Bill of Rights.
"With his executive order on immigration, the President finished laying waste to the First Amendment," said White House Press Secretary Sean Spicer. "That's not to say it was easy."
According to Spicer, President Trump had planned on simply lumping "a bunch of terroristy countries" into his 90-day ban. However, the White House legal team noted that more explicit religious discrimination might be required to, as Spicer put it, "take a truly hot dump on the Establishment Clause."
"So we decided to add that part about Syrian Christian refugees being cool," said Jared Kushner, the President's son-in-law and senior advisor.
Steve Bannon, Senior Counselor to the President, had begun the White House's assault on the First Amendment earlier in the week. On Wednesday Bannon told a New York Times reporter that "the media should keep its mouth shut," presumably after the newspaper had printed his words alongside the one photo that didn't make him look like every town's Peeping Tom.
[Not this photo, obviously]
"Tell you what," said Bannon, who was appointed to the National Security Council on Saturday. "Compared to the First, the Eighth Amendment was a snap."
"As a candidate, Trump was already on the record supporting torture," Bannon explained. "He just needed to casually espouse the government's use of cruel and unusual punishment while in office."
Bannon was referring to Trump's joint press conference with U.K. Prime Minister Theresa May on Friday, when he offered this word salad-cum-policy announcement: "I happen to feel that [torture] does work, I've been open about that for a long period of time, but I am going with our leaders and we are going to win with or without."
According to Kushner, after signing the immigration order, President Trump found himself casting about for additional freedoms to trample.
"Dad got a little carried away," Kushner said. "He was asking, 'What's #2 about again?' At that point, Wayne popped in from his executive lounge in the Roosevelt Room." Kushner seemed to be referring to Wayne LaPierre, President of the National Rifle Association.
Bannon elaborated: "Ol' Wayne shouldered the Remington he was cleaning."
"Scared the piss out of Pops for a second," Kushner said. "But we all had a good laugh about it when he realized his mistake."
It was at this point that Bannon suggested other noteworthy legal frameworks. "Nobody's really paid attention to the Code of Hammurabi for millennia," he said. "Seemed like low hanging fruit."
"It's not our style to go soft on the whole 'eye for an eye' thing," Spicer said.
So, according to Bannon, President Trump instead opted to violate Hammurabi's 127th Law, which governs the treatment of faithless wives. Both Bannon and Kushner declined to elaborate.
[Had the Babylonians been serious, they would have carved it into 24K gold]
"The Ten Commandments were next," Kushner said. "But Dad got bored after ticking off the one about graven images."
"Naturally, a nude bust of Vladimir," said Spicer, rolling his eyes.
"If I recall, it was Ivanka who thought of the Buzzfeed lists," Kushner said.
"Stroke of genius—the president hates those guys," Bannon said, alluding to the website's publication of unverified reports describing lewd acts in Russian hotels.
"We just started scrolling through odd-numbered lists," Kushner said. "You probably saw Dad's tweet repudiating '17 Photos That Prove Cats Are Just Adorable Assholes.'"
Spicer shook his head. "They're even more misleading than the Park Service's shots of the Inauguration."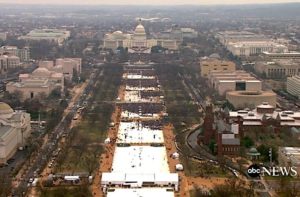 [Perhaps thinking the right to assemble had already been revoked]
Bannon described a break the group took to receive a phone call from Kim Jong-Un, the Supreme Leader of North Korea. "He wanted to congratulate President Trump on his progress," said Bannon, adding that Chairman Kim jokingly described the rapid dismantling of American freedoms as "beginner's luck."
"He was particularly impressed by the detention of immigrants with valid Green Cards at U.S. airports," said Bannon. "Apparently, it took Kim more than a month to suspend habeas corpus."
Kim ended the call by exhorting President Trump to "pace himself."
"Between the swift erosion of a great democracy and Dad's even more outrageous hairdo, it's understandable that Kim's jealous," said Kushner. "There's a new guy in town."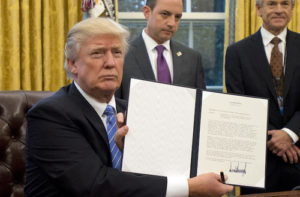 [President Trump exhibiting his complete indifference to America's founding list]