[The Beauport Hotel, open for business]
GLOUCESTER— On Saturday evening, visitors to Gloucester's brand new Beauport Hotel found themselves gawking at more than just glorious views of the city's outer harbor.
Propped up on a chic striped chair in the hotel's lobby was none other than Clarence F. Birdseye, the 70-year-old founder of General Seafood Corporation.
Originally occupying the hotel's 2-acre footprint on Pavilion Beach, the General Seafood factory processed locally-caught fish using a flash-freezing technique pioneered by Birdseye himself. The factory iced its final fillets in 2003 but stood neglected—a monument to Gloucester's declining fishing industry—until August 2014, when a wrecking ball made way for the Beauport.
[Birdseye's old stomping grounds, Pavilion Beach]
Allison Hartwell, a hotel guest from Peoria, Illinois, spotted Birdseye as she and her husband passed through the lobby on their way to the elevator.
"At first I thought he was just another stinking rich old guy," she said. "You know, sneaking a nap after a long day on the water."
"Rich and stinking, turns out," said her husband, Ron.
Birdseye, whose company was eventually sold for $22 million to Post Cereals, suffered a heart attack and died in October 1956.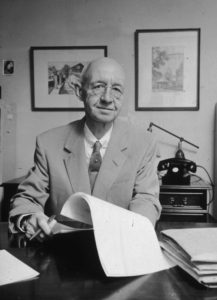 [Clarence Birdseye, prior to fatal heart attack]
Per instructions in his will, Birdseye's remains were sent to the Gloucester factory, where he was treated to the same flash-freezing that had preserved so many a cod.
Birdseye's technique, designed to cause less damage to frozen tissue than slow-freezing methods, was eventually applied to fruits and vegetables as well, revolutionizing the business of convenience food.
"I'm in auto sales," said Ron Hartwell. "So I don't know much about tissue damage at the cellular level. But this guy looked a little worse for wear."
Birdseye's defrosted remains had been dressed in smart linen trousers and a 'Viva!' tee-shirt from the Beauport's gift shop. Yet, according to Allison Hartwell and other guests, these efforts were insufficient.
"His color was off," she said. "It screamed 'meat locker,' rather than a sun-kissed Gloucester afternoon."
"Plus, there was the puddle at his feet," her husband added. Called "leakage" in food industry parlance, this liquid can be indicative of improper storage.
"I'm not sure if the hotel was going for a kitschy Weekend at Bernie's vibe or what," said Hartwell. "But to me the guy was creepy."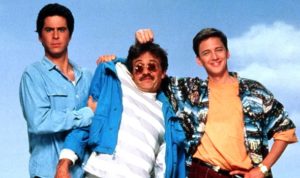 [Same deal, minus the mob subplot]
Asked to comment on their half-thawed guest of honor, hotel general manager David Conti explained: "Look, the idea was part of our commitment to honor Gloucester's traditions."
"We already wanted to display old-timey photos of Mr. Birdseye and the factory, plus a microscope he owned," Conti said. "So when we discovered his cadaver had been sold along with the property, it seemed like a logical extension."
The hotel's other nods to local history include the name of its restaurant, 1606, the year Samuel de Champlain sailed into the harbor and named the area "Le Beau Port."
Still, Conti admitted that the staging of Birdseye's corpse had not been well received. "Good idea," he said. "But poor execution."
"If it had been up to me," Conti continued, "we'd have dressed him in period attire—say, the double-breasted suit and Trilby cap of Birdseye's heyday."
Speaking under condition of anonymity, another Beauport employee elaborated on the hotel's motivations: "Let's just say the investors have been pretty desperate to get locals onboard."
The anonymous source seemed to be referring to the contentious debate surrounding the sale and development of the waterfront parcel in Gloucester's Fort Square neighborhood. In 2013, many residents fiercely protested the City Council's decision to approve the hotel.
Despite the boost to the local economy, including nearly 200 full and part-time jobs, objections persist.
"Trampling on our history is what it is," said Leo Palmieri, who owns a home adjacent to the hotel and obtained his first job at the General Seafood factory in 1951. "I remember Mr. Birdseye," Palmieri continued. "Hard as nails and bald as a badger's ass."
Having learned that Birdseye was on-site, the former employee stopped by the Beauport lobby on Saturday evening. "Looked like he needed a drink," Palmieri said.
Palmieri explained that he'd tried to shuffle Birdseye up to the hotel's rooftop bar, named Bird's Eye Lounge in honor of the frozen food tycoon.
"We were turned away," Palmieri said. "Overnight guests only."
Conti, the Beauport's manager, admitted that the hotel had enforced the policy, notwithstanding Birdseye's status as the bar's namesake. "Really, it was more of a health code thing," he said.
Reflecting on the tensions between Gloucester's past, present, and future, Palmieri offered this final assessment: "Mark my words. The fishing industry will be back and better than ever."  He raised his eyes to the outer harbor, empty aside from the merry bobbing of a few pleasure boats.  "Just like ol' Birdseye."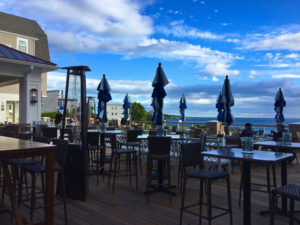 [Serving Corpse Revivers, but not to actual corpses]