If you enjoyed our first installment of our Holiday Gift Guide, we're back today with a second helping. Let the Gloucester Clam escort you through the confusing world of retail shopping with the following great gift ideas. From family to friends, coworkers, or that guy that kind of nods off on your front steps every now and again, the Clam's got you covered with items that will wow you at any price point.
The Four Device Charging Paper Towel Holder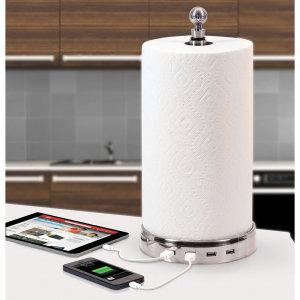 Are you in the market for a gift for a family of four who wants to charge their phones together in an awkward pile in the kitchen? If so, look no further than Hammacher Schlemmer's Four Device Charging Paper Towel holder. Made of equal parts frustrating and useless, it also comes with a decorative wine stopper for some reason. I've been saying for years that the best place for all your expensive electronics is directly underneath where your hands go when they need to be dried, and finally Hammacher Schlemmer listened! It has a weighted, non-slip rubber bottom (don't we all). $49.95.
Desktop Drumset
For the coworker that isn't irritating enough, why not give the gift of the Desktop Drumset? Let's face it: nobody likes a silent, productive workplace, no matter what they or HR say about it. Now you can send everyone in Accounting straight to the migraine zone with this 7-piece set that includes 6″ center tom-tom, two 4-1/2″ tom-toms, crash cymbal, drum stand and a pair of drum sticks. It looks like it was made for Ringo Starr on Shining Time Station. Hold me closer, tiny drumset!  This totally worthwhile use of your money is a mere $12.98.
NFL Player Blanket
Sweet Christ Almighty Hallelujah, let's all celebrate our social acceptance of domestic violence and debilitating head injuries with this classy NFL "blanket" from Harriett Carter (where else), where they boast, "slip it on and look like a gridiron star as the cozy fleece covers you from shoulders to toes. Lets you move freely to stretch, cheer or go grab snacks!" This gift is great for the sports fan for whom snack-grabbing is the most physically challenging part of the day. Remind them to stretch first.
I was under the impression the Snuggie was terrifying enough in and of itself, but the knockoff Snuggie offerings are even worse.  Plus I'm pretty sure the model for the above NFL Player Blanket is on a non-minimal amount of horse tranquilizers. Anyway, if you're questioning why this item is a must-have, look no further than helpful reviewer "Louelliss", who writes "I sleep on a recliner instead of using a bed, and this blanket pretty much guarantees it won't go sliding off during the night."  The struggle is real. You show gravity who's boss, Louelliss! Only $21.98. Choice of 10 barely decent teams.
Garden Hands
Behold the magic that is Garden Hands. If you would like to inflict on someone the agony of repeatedly bending over awkwardly and wrenching their back, this is the perfect gift for whatever hell-person you're buying it for. Stupid, useless "rakes" are a thing of the past when you can use gigantic freakin' garden hands to pick up all your leaves like some kind of inhuman monster (or Buster Bluth). Garden Hands are also useful for chasing panicked, screaming children while laughing and waving maniacally, or picking up dog poop and slinging it effortlessly at passing cars like a game of feces Jai Alai. Also useful if you're up a creek with no paddle. It is not possible to eat while wearing Garden Hands. Curse you, Garden Hands. Made of durable, rinse-clean plastic. $14.98.
High Waist Control Boxers
Ladies, let's face it – we aren't the only ones whose bodies changed after the kids came, so why are we the only ones with control tops? Why not say "dude you've let yourself go" this holiday season with Skymall's High Waist Control Boxer Briefs for men? These fast-drying microfiber wondershorts give ab definition without all that difficult and time-consuming exercise or having to put down the Doritos. It has a supportive pouch that lifts and protects the delicate manparts that probably need all the lifting and protecting they can get at this point. It's "all you need during workouts." To hell with pants or a shirt, the gym bunnies will come a runnin' when your gift recipient crawls sweating profusely off the elliptical machine in this ensemble. It is a known fact no one who needs this item looks anything like the above model. $37, comes in black or white.
Stay tuned next week for a third edition of our Gift Guide for the affluent gift giver.