Here's the thing about our taking Ward 4 city council candidate Kathryn Goodick to task on some incorrect math she based her campaign on, doubled down on with conflicting statements, and then insisted was a "personal attack" when we asked her for clarification: there have been no personal attacks. She messed up the math, because she admitted she hadn't been paying attention to municipal elections and goings-on until it impacted her directly. She used that bad math to knock on doors across her ward and tell a story about skyrocketing taxes that wasn't truthful. And she doesn't understand why that's not okay. 
Pointing out the harmfulness of using faulty, misleading math to prop up your candidacy is not a personal attack, and won't ever be. Calling a candidate out for something that is proven false is the entirety of politics. Full stop. If Mrs. Goodick had said "I may have misunderstood and I apologize," we wouldn't be where we are. But she didn't, won't, and has referred to us as liars and worse, despite careful calculations from local municipal tax assessors, accountants, lawyers, and more on our end. We've asked their camp to point out where our lies are, with factual documentation and we have received no such documentation. So we're done there.
But it's not about just Kathryn Goodick's candidacy. The tax issue with her is the symptom, not the illness. 
It's about the pervasiveness of the tea-party right wing, howling for massive change, without understanding exactly the impact of that change, and without a solid plan to deal with any of it.
Here's the rub that most people, who only have inclination to barely delve into our local politics, don't necessarily understand off the bat: There's a select group of very right wing radicals in Gloucester who have decided to run for council at the prodding of their radical friends and the local "Gloucester Citizens for Responsible Government," some with very, very little knowledge of our city and its budget and how it runs. At least one of these folks running for council didn't even vote in the last three municipal elections. That's frightening to me, because no matter what ward it's about, these things impact our future and the future of kids here.
That's right: at least one of the folks who didn't have the time to go to the voting booth to choose the last few rounds of elected officials now wants to be an elected official. They didn't have time to understand their tax and water bill, but expect us to assume they'll undoubtedly have the time to help six others run the city in their spare time. They are campaigning heavily on the positives of being outsiders, naive to the system. And while municipal elections aren't meant to be entirely for seasoned politicians by any means, there's a certain necessity to practicing for the test you're going to take so you don't flunk it when you get there. You have to understand the policies you're voting on. 
The "idiocracy" we've seen on a national level with Ted Cruz, Ben Carson, and Donald Trump isn't repeatable on a local level, nor should it be – it matches bluster and intentional, willful ignorance with a dangerous belief that cutting the budget and putting several more dollars back into the pockets of homeowners is the be-all and end-all of their candidacy.
National shenanigans like the attempted defunding Planned Parenthood don't work in a place like this, on a local level, because we all know too many people negatively impacted by the hamfisted tax-cutting-at-all-costs policies. There is a disconnect between a politician in Washington and the constituents in his or her home state that cannot exist at a local level purely because of how communities work. So when Joe Orlando (the younger), who is running for at-large councilor, states something like: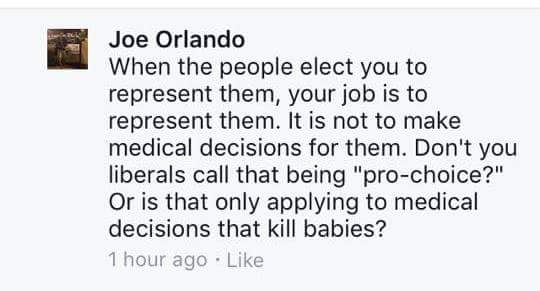 or Amanda Orlando Kesterson, his sister, writes that we should arm all our teachers instead of providing universal breakfast, there isn't a red state full of people willing to vote against their own interests to clap for it. There's just Gloucester, a town full of hard workers who haven't been lucky, economic downturn, and stories about making choices no one really desires to make. Both our mayoral candidates are in favor of universal healthcare, because they're aware of how unfair life can be even to the hardest of workers.
The few candidates who seem to be propped up entirely by the local GOP (which has ideals that are far to the right of what past Republicans have stood for) have overlooked how the local government process works – showing no real knowledge of how municipal taxation is handled except they are "too high" without any sort of context, how they will handle nuanced issues such as the school budget besides "get rid of bloated administration" without any sort of context – and we could go on. But we're tired.
The "Gloucester Citizens for Responsible Government" has, perhaps unsurprisingly, failed at providing candidates that have convinced us that they are in any way ready to be responsible in and for our government this election season.
This may come as a real shock, but we don't like having to write these kinds of posts.  They're depressing, we can't swear as much, and it's about as fun to write as eating a sleeve of saltines with no water. But, this stuff needs to be pointed out, or we risk Gloucester being run by the tea-party candidates who want to cut money out of places where it will negatively impact the services our entire community needs without these people truly understanding the repercussions down the line.
This is why we drink.