Don't know what to get for that special someone? Shopping for the Holiday season is tough! Not as tough as like, crop failure, or living in a place that lacks clean drinking water, but still – the struggle is real! Let the Gloucester Clam help you in your "finding the right gift" vision . We've teamed up with some of the leading retailers to bring you a smattering of quality gift options for everyone in your life.
Wood-Tone Power Strip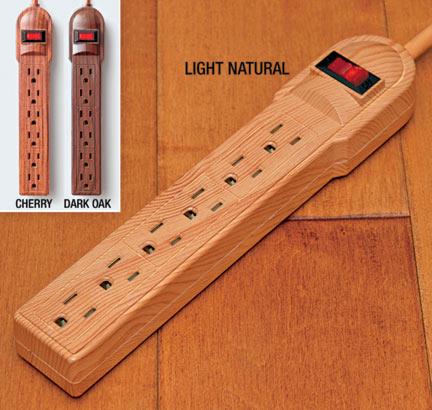 From the astute problem solvers over at Harriet Carter, we have this useful little minx of a gift right here. Wood tone power strips! Perfect for the person in your life who you don't love and never will. "No more ugly, hard-to-hide surge protectors—this one is designed to stylishly 'disappear' into your wood grain flooring." Who wants to see a power strip before they step on it? No one, that's who. It comes in two stylish colors, Cherry and Dark Oak, and is a mere $17.98, which is about $10 more than a power strip you can actually see while you're struggling to plug in all the stupid fucking entertainment center cables.
Selfie Stick
We all have this problem when visiting one of the Seven Wonders of the World – you can't get your stupid grinning tourist face into the foreground! Now you have a great gift to give to friends or family with stupid grinning tourist faces – the Selfie Stick! The Selfie Stick is a fantastic gift item for the person in your life who has a complete disregard for their own dignity and self-respect.  The Selfie Stick extends from 8″ to 39″ and attaches to any smartphone or camera in an undignified manner. Made of stainless steel and durable ABS plastic with a sure-grip handle. $9.98. A bargain at twice the price.
Binocular Visor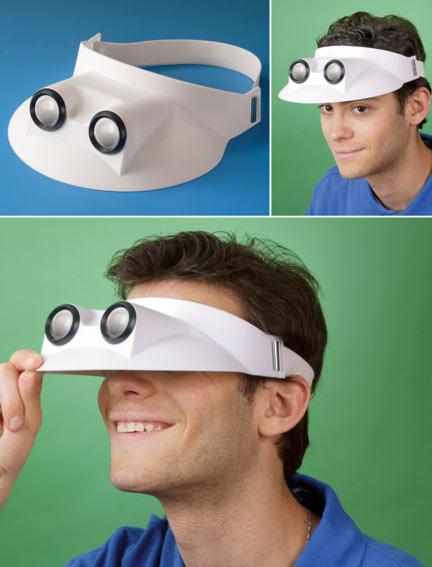 What do you get for the creepy stalker who has everything? Why, the Binocular Visor, of course. The copy for this fanfuckingtastic gift states, "Why strap a pair of heavy binoculars around your neck?" (Yeah, like some kind of dick!) "Ingenious sun visor features binocular lenses built into the brim. No need to remove the visor to view; just pull down over your eyes for immediate 2.5X magnification! Perfect for sporting events, bird-watching, all kinds of outdoor activities!" All kinds like those exact two and barely those at that. What the fuck else would you use it for?
Oh, probably for scoping out ladies in yoga pants from across the park. Probably that.
This panty-dropping display of stunning male prowess features an adjustable head band and is made of durable plastic. It is also only $12.98.
Boozy Bass Bottle Holder
 
Do you have someone in your life you can't stand, but have to buy a gift for? Stupid question, of course you do. Why not dazzle them with the whimsical Boozy Bass Bottle Holder from perennial favorite last-resort reading material Skymall? Apparently, fish can drink wine. I'd drink a whole bottle too if I was a species facing eventual extinction. This delightful object d'art is made of high quality polyresin, fits all standard wine bottles (not boxes, you classless mess), and features a velvet backing, whatever that is. It's $32.99, which doesn't even include a bottle of Trader Joe's wine, for chrissakes.
Wooden Toaster Tongs
Our last gift idea of the day is great for the uncle that's always involved in minor disasters involving electricity. For a gift that says "I don't trust you to get through daily life without dying stupidly", there's the Vermont Country Store's wooden toast tongs. If you've mashed your bread into your toaster with your meaty palms and can't retrieve it, these toast tongs are perfect for fixing your awful mistakes. The best part is that it includes a magnet so it attaches to the sides of your probably-plastic-anyway toaster, so you don't lose them. I mean, of course you'll lose them behind the radiator at the first opportunity, but that's really Uncle Todd's problem. These beauties are $9.99.
Stay tuned for part 2 of our Holiday gift guide!